Arai TECHNICAL PRO SH0P
The Arai Technical Shop is staffed by specialists who have gone
through their Helmet Course and their Arai Helmet Special Usage Course.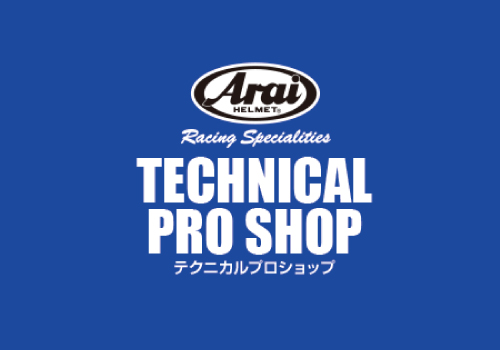 OTHER BRAND

On top of helmet course-certified services, this Pro Shop offers the following unique services.
FEATURES
Helmet Interior Fitting and Customization Service

Enjoy a variety of customization services, such as interior adjustments, pad exchanges, and adjustments for riders with glasses.

In-shop Parts Repair and Discussions

We can replace or repair the mouth vent, center pad, air flap, or side duct of the full face model helmets, as well as perform repairs on diffuser model helmets. Out-of-shop repairs and replacements of parts are also available via the manufacturer.

Other

'- Explanation of the helmet structure and properties. - Explanation of shock-resistant liner and properties. - Explanation of the Snell standard and other helmet norms. - Explanation of the removal and installation of the shield, as well as adjustments. - Suggestions for adjustments to make your helmet interior a perfect fit.
Fitting services are only available if the helmet will be used in Japan.
We cannot take responsibility for issues when helmets are used outside of Japan.